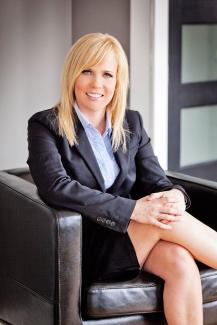 A Brief Interview with Erin Corcoran of Remax
I had the pleasure of meeting with Erin Corcoran of Re/Max Chay Realty Inc. Brokerage and we sat down for a quick interview.
Scott: What makes you awesome?
Erin: I feel that I pay attention to my clients, what they tell me they are looking for and not looking for.  I listen to all my clients needs and wants, whether it be if they are buyers or sellers.  Being a Realtor in the Barrie area, you need to stand out above the crowd, because there are many Realtors.  I try to be a Realtor that helps my clients or future clients, get to know about the area they are living in.  I let them know about activities over the course of weekends, upcoming events or information they might have missed from the City.  I think I work hard for each client that comes my way; that alone I feel makes me 'awesome.'
Scott: Do you have an ideal client/market?
Erin: I don't have an 'ideal' client/market.  However lately I have been dealing a lot with first time buyers and the senior demographic.  I have learned that I can be there for whatever bracket my client falls into.  My marketing strategies are for Simcoe County.  Yes, that is a vast area to cover.  But if I have a client that is looking outside of the Simcoe County area, I tend to refer them to a knowledgeable Realtor from that area.  I want my clients to be happy with their service and if I venture outside of the Simcoe County area, I might miss something that a local Realtor would know.
Scott: If I am using you to help buy my first home, who covers your expense/cost?
Erin: I am self employed.  I cover all my own expenses.  Being a Realtor, you pay for everything yourself.  The gas, time and all other add-ons that I give or offer to my clients.  Running open houses, showings, feature sheets, virtual tours, etc.   They list goes on; but I pay for everything upfront.  Only once the 'deal is final,' do I then get paid.  It is an investment I am willing to take to help assist my clients in finding their home or property.  I love investing my career and time into helping others.
If you are thinking of buying or selling in the near future, hopefully this interview gives you a little more knowledge of how Erin works with her clients. For any further questions you may have, she can be contacted at her office at office:  705-722-7100.