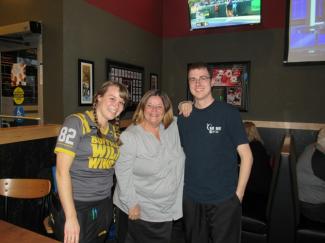 A great big thank you to the friends, family, and Relay teammates that came out to the Relay for Life fundraising event held a Buffalo Wild Wing on Monday. The wings were delicious and despite being a short event, we were able to create a few laughs and memories that we'll cherish going forward.
Now, let's rewind a bit. As many of you know, my charity of choice is the Canadian Cancer Society. Each year, the Cancer Society hosts Relay for Life as one of its cornerstone fundraisers in towns all across Canada. I initially got involved with the Cancer Society by fluke. An employee at Georgian College was looking for teammates when I was there as a student and a friend and I happened to hear the news. We were intrigued by an event where you had to walk for 12 hours straight!
I consider myself one of the lucky ones. Growing up, I only had two family members who faced this disease and luckily, both were survivors. I decided to sign up for Relay for Life to honour them that night.
What a night it was! The energy, the passion, the love, the tears – it was truly an emotional rollercoaster for all participants. Then add on exhaustion, as we walked for 12 hours straight as symbolism for those who have to face cancer. There was live music, lots of food, on stage entertainment, kids areas and more!
After my first year, I knew I wanted to take on a larger role than just being a participant. So I broke away from my initial team and became a captain of my own team, recruiting 9 new people who had never experience the event before. We had a blast! Two members donated ponytails of hair and one member lost a friendly bet and shaved the donators name into the back of head and dyed it green.
The following year, I decided I wanted to make even more of an impact and joined the Relay Committee team. I didn't take on a major role, but helped with Logistics. Last year I decided to join the Recruitment team and have maintained that position. I love reaching out to community members who may have never heard of Relay for Life.
The event this year takes place June 2nd, 2017 from 6pm-midnight (it's no longer a 12 hour event) and the concept is that one team member walks on the track for the entire event. Meanwhile, the track is lined with luminary candles to remember those we lost or honour those still with us battling cancer.
We've got a lot of upcoming fundraisers that I hope you'll join us for:
April 10th @ Boston Pizza Bryne Drive from 5pm-8pm – Celebrity Server Night featuring the Relay for Life Committee as servers as well as Barrie Wrestling Superstar "Rage". 10% of proceeds will be donated to Relay for Life.
April 26th @ Buffalo Wild Wings Park Place from 5pm-8pm – 10% of proceeds will be donated to Relay for Life
May 27th @ 80 Bradford Street from 8am-12pm – Annual Trunk Sale – Teams will be selling used goods, baked goods, and more, as well as a BBQ. All proceeds go to Relay For Life
June 2nd @ Mapleview Community Church from 6pm-mindnight – The Relay for Life Event!
Shawn Gibson, a writer for Barrie Today, wrote a great article summarizing our Buffalo Wild Wings night and helping us promote around the community. You can view that article here.
To get involved and help raise funds for cancer research, you can register for the event or donate to Relay for Life http://convio.cancer.ca/site/TR/RelayForLife/RFL_CAN_odd_?fr_id=22411&pg...
Hope to see you all there!